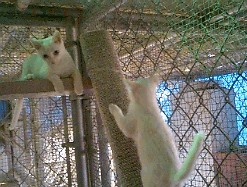 8/26/99 Arizona Well, now the troops have settled in, by this I mean the babies, Sripia adjusted almost immediately, but the 'wild ones', after literally investigating every nook and cranny, I think are satisfied that there is nothing in the house that needs 'tending' to! From the highest to the lowest point, I truly feel that every inch has been covered. One day I came in from outside, and one was on the valance over the window by the desk! I looked and looked to no avail, then I heard something, looked up, and here was this dear little face looking down at me! Oh, to have a portion of the energy these four have expended. They are calmer now, still have a race track in here, but nothing compared to earlier in their quest to find something to find, anything/everything to pick up and run with, or to stop and 'smell the roses' I finally moved my plants into another room and keep it closed. Mom just watches them, sometimes she almost has a look of please kids, take a nap. She is still an excellent mother, I have to say, the most doting mom for having babies this old, her patience is amazing. If they bother her too much, she just moves and goes elsewhere. I have a cat door in my bedroom, she will use that, go on my bed, and I close it so she can get some peace. She seems to enjoy her time alone. When she wants to come out, I hear a knocking at the cat door, and the dear little children run to her as tho she had been gone for days, "mom," "mom," and she washes each and every one of them with such care. As Nick mentioned, she has the most elegant walk, one foot in front of the other, just like a model. I have never had a cat that was truly such a 'Lady.' She epitomizes royalty, and I really do not think there is a mean bone in her body. She shows her fierceness regarding her babies, but that is an admirable quality, aside from that aspect, she is a dream, a dream come true. You can cradle her in your arms as you would a baby, she looks up at you with those exquisite eyes, bends her head back so you can caress her throat, and is as limp as a rag, no fear at all, and I have yet to see her claws come out, or show any fear at all, I attribute this very much to the care they got while w/ Nick. The babies length of time for cradling is getting longer w/ each day, they do not find the urgency to investigate, nothing left to 'seek and destroy', so they also lay on their back, like mom, and will actually fall asleep. I took photo after photo, and I must admit here, a photographer I am not, however, if there was ever a market for caboose shots, I would be in much demand~~~I could have memorialized each and every one's back side, with the exception of Sripia, who cooperates, but the caboose is not what I want memorialized, so will keep trying as promised. It is still so bloody hot here, we are at least 10 degrees above normal, so they can only go outside for the wild time, and I mean wild, in the very early a.m., or night time, w/ the lights on. Not a good setting for photos, they are not still enough at any one time to get a photo of any kind, by the time you push the button, they are out of frame. But, hang in there folks, I will get some, and may end up sending some of my poorer shots, (not 100% caboose tho) just so you can get a feeling for what they all look like.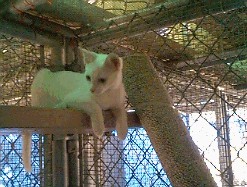 9/9/99 Arizona Took Sripia and kids to the vet, 2 kittens were sneezing, but no problems, they are getting acclimated to the Az. drier air and plants etc. My vet wanted to see them anyway, so I took the whole group in. They were a real hit, and I call it the 'hit parade' - -everyone had to come and see them, the entire staff, all the way down the line. I cannot believe the calm personality of these cats, not a claw or bite in sight. Even with the temp. taking, no upsets. They all had their check ups, and Sripia would talk to them all, but no ill behaviour out of the bunch! The babies eyes are so small, and still dark, with the normal light you cannot see that they also have the starburst, but w/ the vet light, very easy to see. In fact, one of the associate vets drew a picture on the board. Everyone had to dome and see!!! They were totally inundated with visitors that day, and not one became upset, which not only impressed me, but the staff. When we got home, Sripia cleaned them all thoroughly - and I mean thoroughly, from head to toe! The Br/w one, that is more timid than the rest, also is very independent. You will find her laying by herself, or investigating alone, and obviously has a mind of her own. When she has a mission, she is single minded, not obnoxious, just wants to complete her venture. The all white one is the largest, and he is a going concern..gives the rest a run for their money. When it is nap time, if he is not 'ready,' he gives no peace, not even to mom, and she never gets upset. The Bl/w one w/ the bl nose, is the next most rambunctious, between the two of them, they can make a race track seem boring. Wrestle and play until they drop. The other bl/w one is kind of in the middle, not as wild, not as independent as the br/w one, and partakes in activities but not until exhaustion sets in. They all have discovered 'mom's hiding place in my room, they are so smart, they try and reach the door knob and get in........they work on the kitty door, but learned that does not get it, so now they have started on the door knob, you will hear this kind of pounding, and you go look and see, and they are all jumping up to the knob, and of course hitting the door. Sripia does not ask to come out, so she knows they are okay. Probably thinking to herself, boy am I glad I am in here! They have grown so much since they arrived, it is unbelievable. They have been a joy in every respect, and watching them change, the personalities changes, etc., has been very entertaining. I know they are still not "who" they are g

oing to be, but the roles have changed since their arrival, and will be interesting to see 'who' they finally end up to be. Oh, the white male one is still mamma's boy, and he is the biggest of them all, but will be found cuddled up closest to her......it is so cute, because he is a big lunk, but she does not seem to notice he is getting to be her size.