Acknowledgements
Many people have contributed to this site. I have put in links to their mail addresses and web sites throughout the site. In addition I would like to thank the following for providing information:
Martin Clutterbuck the author of the epic Legend of Siamese Cats (White Lotus Press). The book is a classic and should be read by every cat lover.
Daphne Negus, editor of the Ultimate Cat Book, provided background information in particular the fascinating quote regarding Khao Manees in the Royal Palace. This provides independent corroboration for Namdee Witta's claim that the Khao Manee were the true Royal Cats of Old Siam.
Sue Brown provided information on white cat genetics.
Chandra Lam for the Japanese links and translations.
Pornpetch Yinatsawaphan for various information regarding the Khao Manee...
All who sent in their amazing stories and beautiful pictures of their gifts from the Cat Gods.
To all of you: Khob Khun Khrap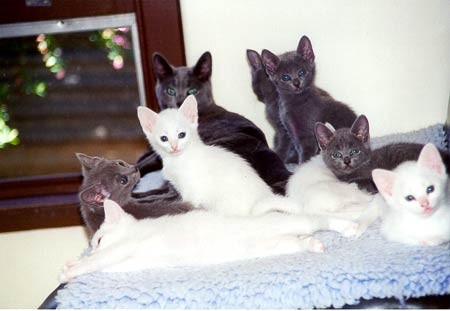 Chandra's Russian Whites