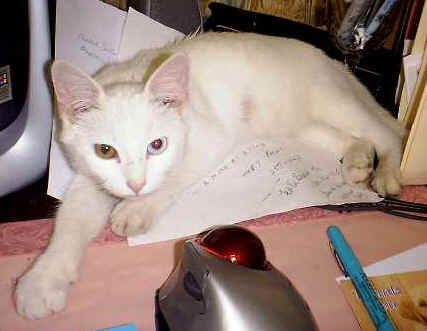 Sue & Gerry Kurowski also received a Gift from the Cat Gods:
"About a month ago, one of our friends, who works with our local Citizens for Animal Protection group, told us of a beautiful, smart, and friendly kitten that was brought to the dump and left there. He had taken pictures of it and was hoping to find the kitten a good home. We decided then and there, from the accolades of this man, that this would be our ideal "store cat," and adopted him that same day. It seems impossible to me that what we found that day at the dump is, indeed, a Khao Manee (which I had never heard of before researching our white, odd-eyed cat). However, many of the things I've read so far certainly fit our "Cosmo" to a T. We believe he was about four months old when we got him. He came in the door purring, after a short ride in a pick up truck with us -- strangers to him. He is smart...to the point where we sometimes believe he reasons things out. He is charming and friendly. When he hears the front door of our store open, he runs to greet the customer. He requires our attention when he wants it...and he is the first cat we've known who "fetches." We just love him."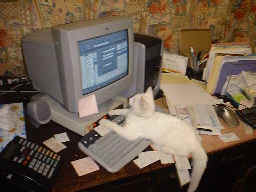 Sue has been allergic to cats since her late teens, but for some reason, this cat does not bother her.
"This is the first cat I've had in over 30 years, and he is fascinating. I love to watch him reason things through (knowing that when he bats his toy mouse under the front panel of the bookshelf, he can enter through the end panel and retrieve his mouse), and I especially love the way he runs to greet customers -- greeting customers results in a very noisy gallop up to the door. This gallop is quite different from the very purposeful stride he uses when returning from fetching his toy mouse. He spends his mornings in the front window of the store, waiting for us to arrive, and entertaining his fan club. Even though our shop is filled with gifts and glassware, he has not harmed a thing, and we have found him tip-toeing through china, glassware, and along the edges of room dividers. He also appears to "pretend" to be startled by us, giving him a reason to jump and skitter, even though he's not afraid of us (or anyone else, for that matter) in the least. He purrs loudly and continuously. He seems especially fond of my husband, and will follow him from area to area within the store.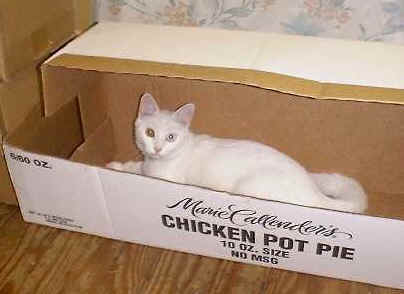 We have had him one month. In that time, he has gone from just a bit over 3 pounds in weight to a bit over 6 pounds. We feel so very fortunate to have brought him home from the dump before anyone else claimed him. The vet tells us that his hearing appears to be fine, and he had none of the feline ailments one fears in a "stray." All the more reason for us to believe he was a gift from the Cat Gods!"