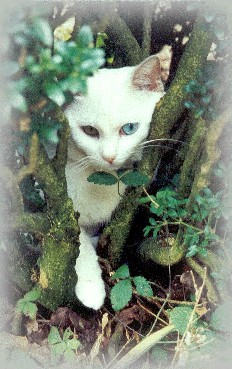 A prize winning photo of Sammy
So where could he have come from?

"I am be inclined to think that Sammy was born from a long lost strain of the Khao Manee in a standard Siamese. I am very familiar with Siamese and this kitten has several Siamese characteristics. First and foremost he has the voice and is very vocal. He has the lean angular body structure of a Siamese not the compact build of a Persian. He has a well refined face. And he has the graceful liner gate so prevalent in Siamese. It even looks as if there may be very faint gray points appearing on his ears and feet. Further confirmation that he would have a strong Siamese background. "
Some other Khao Manees who appeared...read their stories
Snoop

A one time starving stray