Luna
Lisa acquire Luna from an animal shelter.

Luna is a beautiful female with one blue eye and one yellow eye. She is probably not pure because she has two tiny dots of brown on her nose leather (about 1 mm and 2 mm in circumference). Her coat is completely white, glossy, thick and she has pink skin underneath. There are no signs of deafness.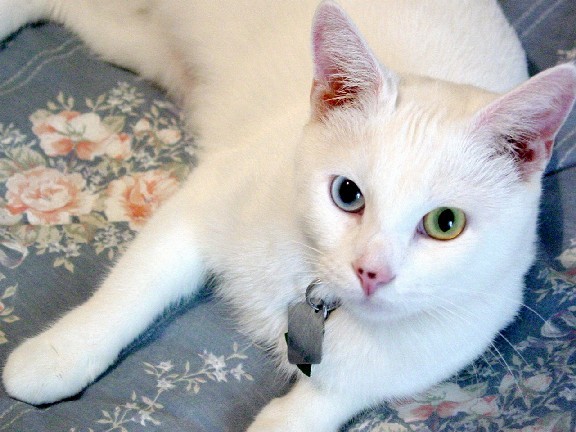 In the States, cats that land in shelters are often neutered or spayed before they are adopted, so there was no chance to mate this adorable cat since she had already been spayed. She had one litter and the reason she was left at the animal shelter was that she and her five babies were too much for the owner to handle.
She came from a whole line of white blue or odd-eyed cats and none of them were deaf. Her cry is not exactly like a siamese, but she has some qualities of the plaintive cry they are known for. She has the personality of a Siamese - following Lisa around, knows her new name in day and comes when called.