Appearance The temperament and physical characteristics of the Khao Manee

Khao Manees and Royalty The Khao Manee was a favourite of Siamese Royalty

FAQ Frequently Asked Questions

The Cat Museum A living showcase for the Khao Manee

The Good Luck Cat The Siamese people believe that the Khao Manee brings good luck.

Khao Manees in America Colleen Freymuth's description of how the first Khao Manees came to America

Saving the Khao Manee Exporting the first Khao Manee to America

Interview with Namdee Namdee Witta claims his cats are the direct descendants of those belonging to King Rama V. Learn also how the Siamese look after their cats.

A gift from the cat gods Stories of 'Khao Manees' that just appeared.... -


Acknowledgements
Thanks to those who helped with this site

This website aims to be a comprehensive and accurate source of information about the Khao Manee cat. If you have information about the Khao Manee that you would like to pass on, please

Alternatively if you think that there are inaccuracies in the information we have provided please let us know.
For most people in the US or Europe a 'Siamese' cat is the famous seal point with their wedge shaped head and blue eyes. But in their native Siam it is the Khao Manee 'White Jewel', sometimes known as the Khao Plort ('All White') which is the most popular and celebrated of the traditional breeds and recent research has uncovered that they, not the seal point, were the true Royal Cats of Old Siam.

The Khao Manee which can be identified by their pure white fur and eyes of differing colors are among the most exotic and interesting of all cats. Some have pairings of one blue and one emerald green eye, while others have blue and yellow pairings and are sometimes called "Gold & Silver Eyes". Some have both blue or both yellow or green. It is only recently that the genetic mutations that produce the diamond eye have been understood.
The Khao Manees' popularity goes back many years. The Tamra Maew or Cat Book of Poems (1350 - 1767), the ancient Siamese treatise on cats describes it as:
...completely white, eyes of clear mercury,
this cat if in any house,
brings long life and title,
material wealth coming in with no decrease
will be entertained with all things in happiness.
This translation is from Siamese Cats: Legends and Reality
which is essential reading for anyone interested in Thai cats.
Khao Manees were a particular favorite of Rama V, one of Siam's greatest kings who bred and fixed the type and were closely guarded in the royal palace. The penalty (so legend has it) for a commoner stealing one was death...
They all have a marvelous temperament, and show great trust in humans. If given love and proper care they make excellent pets.
On Monday 16th August1999 the first Khao Manee cats to set foot outside Siam began an historic journey to the United States. They arrived at Los Angeles airport on Tuesday 17that 11 am and were met by Colleen Freymuth. On the 8th July, Colleen became the first person to breed Khao Manees outside of Siam when 2 kittens were born to Dee. The father was Hin.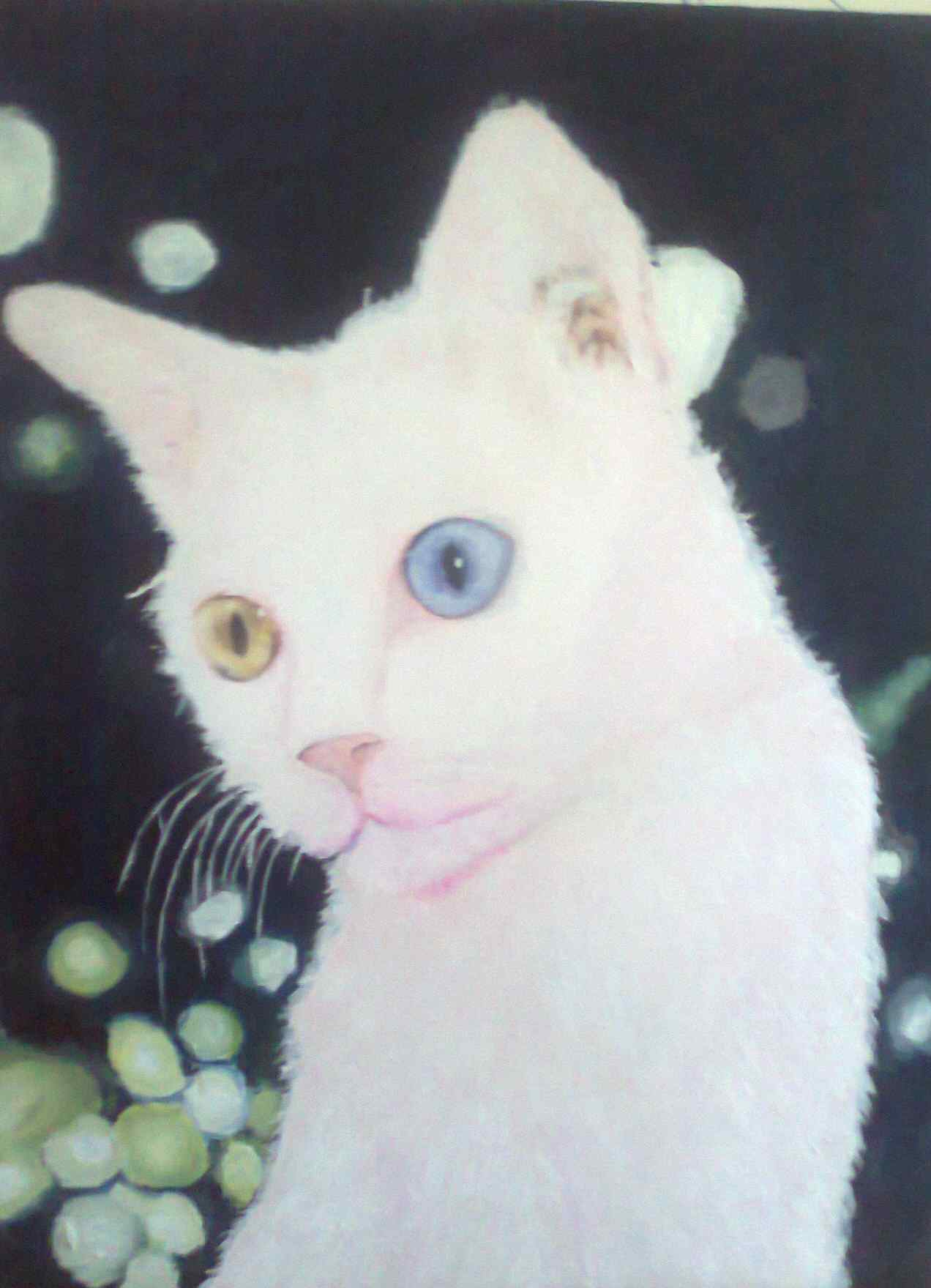 'Sripia'